Speciality Food Packaging Range Extended
23 August 2012 | Admin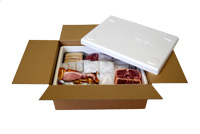 Following customer feedback regarding shipping food, we have now added the new 'Poly Box Plus' product to our food packaging range.
The Poly Box Plus range contains four of our standard polystyrene boxes with a made-to-measure corrugated outer sleeve to enhance the presentation of the box when it arrives with the recipient. The sleeve also provides an additional benefit of increasing the life span and durability of the pack.
The corrugated outer sleeve is supplied flat-packed and is available in the following sizes;
All of these sizes are available to purchase in either parcel or pallet quantities as well as samples if you are looking to try them.
Poly Box Plus is perfect for mail order suppliers of speciality foods and many other business applications where better presentation quality is required.
Discover the new Poly Box Plus range.