Polystyrene Box Insulation Test
4 October 2013 | Admin
Test Summary
This test measures the difference in thermal performance between polystyrene boxes, waxed cardboard boxes and a plastic corrugated alternative.
These temperature controlled packaging products have been tested to see how long they can maintain an internal temperature below 5°c when subjected to a cold ambient temperature of 5°c and a warm ambient temperature of 15°c for the required duration of 72 hours.

Method
All the boxes were loaded with 3.3kg of fish (rainbow trout) and 1.8kg of frozen ice sheets as a cooling medium. A layer of fish followed by a layer of ice sheets followed by a final layer of fish and a last layer of ice sheets before the lid went on.
The boxes were conditioned by placing them into 0°c storage for a period of 24 hours to allow temperatures to stabilise between all the boxes prior to the test.
Two tests were carried out
Test one – Cold test with an ambient test chamber temperature of 5°c
Test two – Warm test with an ambient test chamber temperature of 15°c
An hour before, each test chamber was programmed to the specified ambient temperature. Each box was fitted with three thermocouple sensors, which were placed top, centre and bottom to give a reading across the whole box. Finally the boxes were loaded into the test chamber and left for the required duration of 72 hours.
Results Summary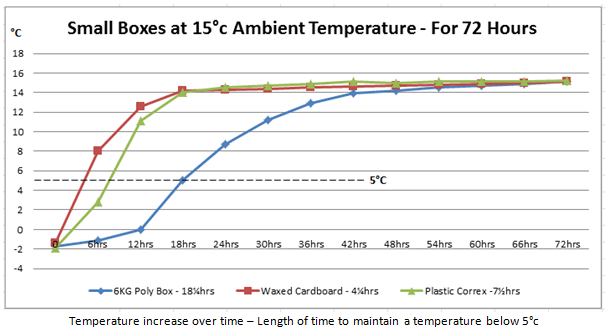 The 6kg Long Polystyrene Box maintained a product temperature of below 5°c for the full 72hr duration when tested in the cold ambient conditions, significantly outperforming the waxed cardboard and the plastic corrugated box.
The 6kg Long poly box shipper did not manage to maintain a temperature of 5°c or below for the full duration of the test when stored in warm ambient conditions of 15°c for 72hrs. However the polystyrene box was still able to outperform the waxed cardboard and plastic corrugated by more than 12hrs.
These results also show how effective EPS boxes can be at maintaining a temperature below below 0°c.
Conclusion
These tests provide conclusive proof for polystyrene boxes being the most effective shipping option for transporting fresh fish, regardless of the ambient temperature and shipping options. Where thermal performance is concerned polystyrene boxes far outperform those of their waxed cardboard and plastic corrugated counterparts.
Where to Buy
Polystyrene boxes are available to buy online from JB Packaging and sample boxes are also available.
Reference List
fishboxes.info (BPF EPS GROUP)
http://www.fishboxes.info/wp-content/uploads/2012/03/thermal-performance-report-2-small-fish-boxes.pdf
Test carried out by
DS Smith Cool Logistics